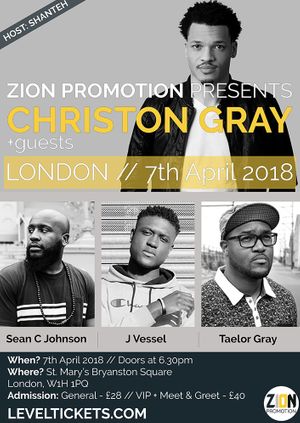 Christon Gray + Guests
7th Apr 2018 6:30pm - 10:30pm
Add to Calendar
Event Details
Zion Promotion are proud to be hosting the American R&B singer and rapper, Christon Gray this April!
Following the success of Christon's debut UK performance at the start of 2017, Zion Promotion couldn't wait to work with Christon again to put on another incredible of live music.
​Christon's songs are full of authenticity, largely written about his feelings around "being human". This evidently comes across in his live performances as he sings and raps with authenticity and conviction.
This year Christon will be joined by his brother, Taelor Gray, who is also a talented rap artist. You'll also see the return of former Air Force Staff Sargeant (now Chrisian R&B/Hip Hop artist) Sean C Johnson and we also have J Vessel, a young UK based up & coming rapper.
It'll be a night to remember and not one to miss!