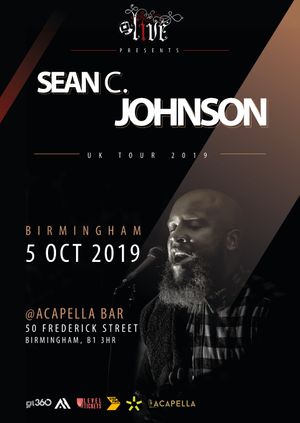 GL Live featuring Sean C Johnson UK Birmingham
5th Oct 2019
7.00pm - 10.30pm
Greenwich Mean Time
Add to Calendar
Event Details
Sean creates music that lyrically takes the listener deep into the Word, changing the hearers into doers, and leaves a lasting impression on those who experience his performance. This former Air Force Staff Sergeant and soul singer continue to gain US recognition as a ground-breaking artist of his generation, drawing the listener in with his unique sound and vibe.
Following on from rave reviews every time he brings his unique brand of neoteric soul this side of the pond, soul maestro Sean C Johnson returns this October for not one but two shows – Thursday the 3rd in London and on Saturday 5th in Birmingham.
UK TOP TALENT ANNOUNCED FOR SEAN C JOHNSON'S BIRMINGHAM & LONDON SHOWS!
With Birmingham acts already published including Paul The Messenger, Michael Personne, Tia and Odd Priest, ArtisteHub and aStepFWD now announce Ruth Ellen, Still Shadey, Shanteh and Triple O as the acts who will be joining Sean on the London stage in a few weeks.
These latest U.K. appearance is part Sean C Johnson 2019 Tour with the collaboration GL360Media, AStepFwd and ArtisteHub.
Don't delay purchase tickets now!
Limited Early Bird - SOLD OUT
Limited Standard Tickets £20 - few remaining
Standard Standard Tickets £25